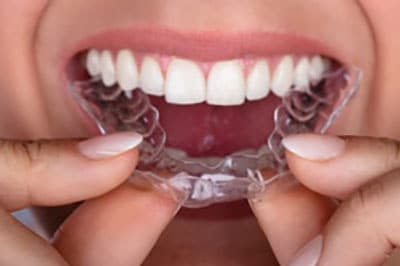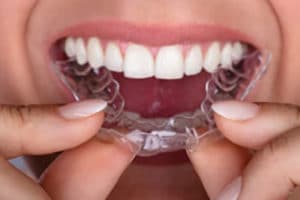 When you want straighter teeth but dislike the idea of traditional braces, Invisalign could be for you. Invisalign is an orthodontic treatment that uses a series of clear aligners to predictably shift your teeth into their proper positions.
Millions of people receive orthodontic appliances every year. In the past, traditional metal braces were the only path to straighter teeth, but modern techniques have given us numerous ways to correct orthodontic issues without obvious orthodontic appliances.
Invisalign is one such treatment. Invisalign is virtually undetectable in your mouth, but provides effective treatment for the most common orthodontic issues, and even some more complex ones. Our patients in North Bethesda love how discreet Invisalign is for straighter smiles.
"Amazing dentist! Dr. Nikkhah was lovely. She took the time to talk to me about Invisalign and listen to my concerns about my teeth sensitivity. She cleaned my teeth quickly, it's easy to get an appointment and she has a very friendly staff. Highly recommend and can't wait to come back! "
– GIOVANNA PAMAMENO
Issues Invisalign Can Correct
Invisalign can correct numerous issues with your smile, including the majority of concerns that people use traditional braces to fix, including:
Malocclusions. The technical term for misaligned bites, Invisalign can fix overbites, underbites, crossbites and open bites in most cases.
Crooked or crowded teeth. Teeth that are too close together are not only difficult to clean, but can carry an increased risk for tooth decay and gum disease.
Gapped teeth. Many patients want to close the gaps in their teeth, and Invisalign is an effective way to help you do this!
Straighter teeth. For patients in Rockville who want a generally straighter smile, Invisalign is a subtle yet effective way to get you the smile you've always wanted.
How Does Invisalign Work?
Invisalign works using aligners that are swapped out every few weeks to help shift teeth into place. These aligners are a lot like retainers and aren't visible in your mouth.
To design your unique Invisalign treatment, Dr. Nikkhah will take digital impressions of your teeth and discuss any issues that should be corrected for your ideal smile.
The aligners are custom made for you based on the impressions taken. You'll only visit Dr. Nikkhah every few weeks when your aligners need to be swapped out, and to ensure that your treatment is working as expected.
Your aligners will need to be worn for a minimum of about 20 hours every day, so be sure to wear them as directed by Dr. Nikkhah to see the best results!
The Benefits of Using Invisalign
There are many benefits of Invisalign over traditional braces. Invisalign is not only more discreet, but allows you to have fewer visits to your provider in North Bethesda, unlike adjustments with traditional braces.
Invisalign is also completely removable, which allows you to move the device when eating or cleaning your teeth. This means you have no eating restrictions, and can clean your smile just like you would otherwise, something traditional braces can't offer.
Many patients find Invisalign to be more comfortable and easier to wear than traditional braces. Invisalign also poses no risk for teeth staining, as is sometimes seen with traditional braces, and has a much lower risk for root resorption, which is also a concern with braces.
Want a Straighter Smile?
If you've been thinking of a straighter smile, contact us at Pike District Smiles to learn more about Invisalign or to schedule a consultation . We look forward to seeing you!