Restorative Dentistry 
If decayed, damaged, or missing teeth have taken a toll on your smile, ask about Restorative Dentistry. Damaged and missing teeth, can lead to oral health issues like bone loss, tooth decay, gum disease, and difficulty eating or speaking. 
Restorative dentistry can help you regain the beautiful smile that you may have thought you had lost forever. Our state-of-the-art restoration treatments like crowns, bridges, and implants are some types of restorations that you might want to consider to enhance your smile.
If you've been searching Google for "dentist near me" to find a dentist to perform restorative dentistry, you'll want someone who has training and experience in a wide range of restorative procedures, like the following:
Dental Crowns
Crowns are custom-fitted caps that closely resemble the look and feel of natural teeth, and are used in Restorative Dentistry. In short, they are placed over teeth that have become damaged or decayed, completely covering them up. Some common materials used in crowns include:
Metal
Porcelain-fused-to-metal
All porcelain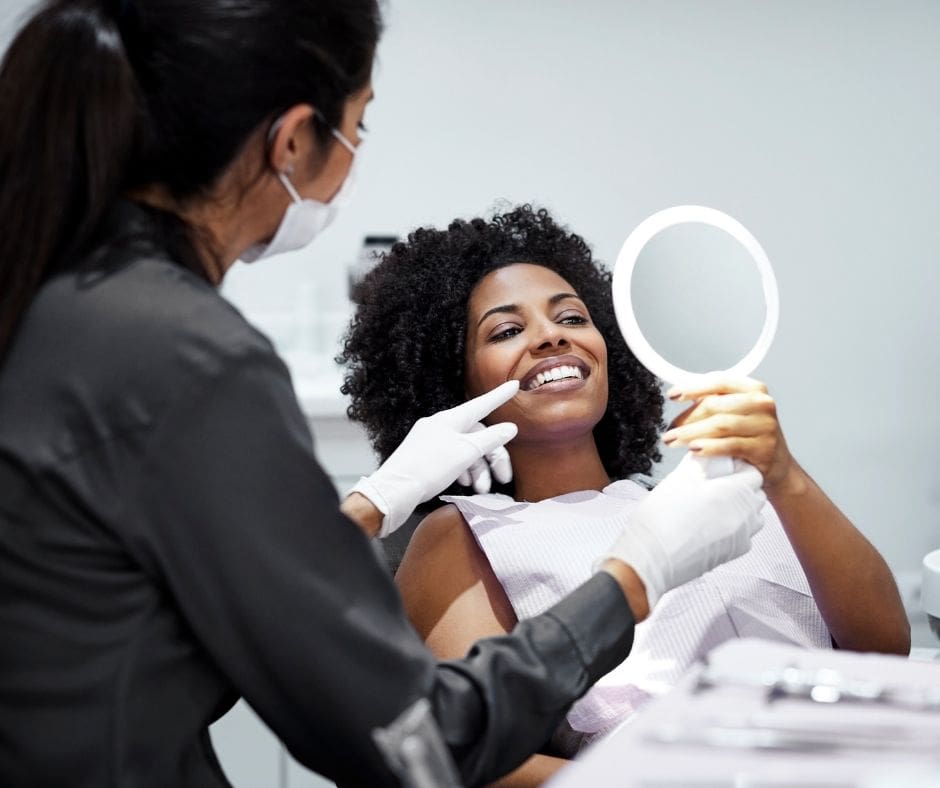 Crowns are often used in cases where a larger filling would not make sense for the patient. There may be not enough tooth structure remaining to support a dental filling, whereas a crown will fit on and around such a tooth to provide additional strength and support.
 Dental crowns are also commonly used if the patient needs a dental implant.
Dental Bridges
If you should experience tooth loss, you may benefit from a dental bridge. To receive a bridge, the teeth on each side of the empty space will have crowns placed upon them, as well as an artificial tooth affixed to the crowns.
When it comes to dental bridges, you have several treatment choices. This includes the traditional bridge, Cantilever bridge and Maryland bridge. When you meet with your dentist at your initial Restorative Dentistry consultation, they will lay out your treatment options and recommendations
Denture 
A denture is simply a type of artificial tooth. A partial denture can be used to replace a single tooth. However, complete dentures are for those who require replacement for all of their teeth.
Although dentures do have their drawbacks, they can serve as an effective cosmetic replacement for teeth so that you can smile with confidence.
Dental Implants
Dental implants are a great type of restoration for anyone who is missing just one tooth, or a few teeth. They are inserted right into the jawbone.
In short, each implant is made up of three parts. The first is a metal post that your dentist will implant into your jawbone. In a few months, after your jawbone has fused around this implant, you will return for another appointment to have a piece called an abutment placed. Next, a dental crown can be attached onto the abutment as the final piece of the entire structure, which will allow you to bite and chew normally.
Learn more about restorative dentistry with Pike District Smiles. Moreover, new patients are welcome. Book today!