Emergency Dentistry
Emergency Dentistry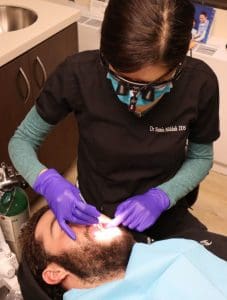 Have a missing crown? A damaged filling? Knocked-out teeth? Pike District Smiles can help. We offer emergency dentistry services in North Bethesda, including walk-ins and after hours availability to accommodate you.
Life happens. Dental emergencies can occur at any time, whether you're at a sports practice, on vacation, or even enjoying a day off at home.
Fortunately, Pike District Smiles makes every effort to accommodate patients needing emergency treatment in the Rockville area. Whether you or your child has experienced a dental emergency, call us or stop by and we'll do our best to see you as soon as possible!
"Dr. Nikkhah fit me in the same day for an emergency chipped tooth.
She worked quickly to minimize my discomfort and my tooth hasn't had any problems since. Honestly, I can't even tell that it's partially not
my tooth! I look forward to my visits with Pike District Smiles."
– MARY SMITH
What Constitutes a Dental Emergency?
Dental emergencies can vary, but generally, a dental emergency includes any case where your tooth is at risk to be lost, your tooth or mouth is bleeding excessively, or you have intense pain.
A dental emergency could include:
A tooth that's been knocked out or broken into fragments. In this case, try to keep all the fragments and store them in saliva or milk and bring with you to the office.
A cracked or broken tooth. Cracked teeth can allow bacteria to affect your tooth's nerve tissue, leading to pain and even an infection. If you have a broken tooth, save the broken piece and bring it with you to your appointment.
A severe toothache. A toothache may be the result of an infection. In rare cases, it can be life-threatening.
A jaw injury. If you've had an accident that resulted in a jaw injury, Dr. Nikkhah can take x-rays to determine if your jaw needs professional treatment.
Any type of oral health issue that's causing severe pain, swelling or bleeding should be evaluated by your dentist as soon as possible.
Problems That May Be Able to Wait
There are some issues that may be able to wait until a regular appointment to be seen, although you'd ideally want to get in to see Dr. Nikkhah as soon as possible.
If you have a lost or damaged filling, broken wires or brackets on orthodontia or a mild toothache, contact our practice and we can advise you if you should come in that same day or if you can wait to schedule an appointment in the next few days.
However, if you have an oral health issue that you truly feel needs immediate attention, don't hesitate to walk in and see us or contact us by phone. We're here to help!
Call Us Now
Dental emergencies can be painful, stressful, and frightening. Don't wait to get the treatment you need. Call us at 301-979-9071 to get same-day treatment from Dr. Nikkhah at Pike District Smiles. We're on call to assist you 24/7 with your oral care!