Family Dentistry Bethesda
When it comes to family dentistry Bethesda patients expect the very best care. Family dentistry is concerned with many of the same treatments and procedures as general dentistry. This includes a focus on providing dental care for every age group.
Your family dentist is also a trusted custodian of your family dental records so that everything is available conveniently under one roof.
Let's take a look at some common types of dental treatments offered by your family dentistry Bethesda.
Pediatric Dental Sealants
According to the American Dental Association, young children who receive dental sealants are 80% less likely to develop cavities. Sealants are applied to molars. They act as a sort of shield to prevent the teeth from coming into contact with oral bacteria and the damaging acids that they produce.
These back teeth are the most succeptible to developing tooth decay because they are sometimes hard to reach when brushing and flossing. For this reason, your family dentistry Bethesda offers sealants along with other treatments to protect your child's smile.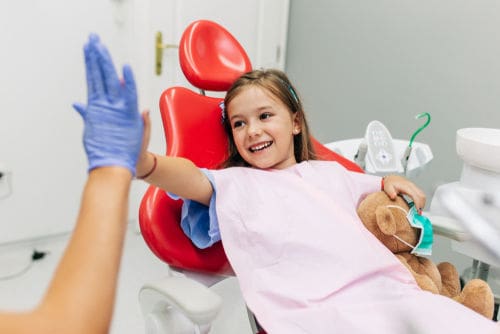 Porcelain Veneers
Another commonly offered treatment at your family dentistry Bethesda, are veneers. A dental veneer is a thin sheet of material that your dentist applies to the outer surface of your teeth to correct minor aesthetic issues like chips and discoloration.
Porcelain is a type of dental veneer that is extremely durable and closely matches the appearance of natural teeth. Also, they are stain-resistant.
Receiving your new porcelain veneers takes place in two trips to your family dentistry Bethesda. First, the teeth are filed. Impressions are taken and sent to the dental lab. You are given temporary veneers to wear until your next appointment.
During your final appointment is when you will actually have your porcelain veneers placed on your teeth and cemented into place. Veneers require removal of the tooth enamel. So this is a permanent treatment, and there is no going back.
Dental Implants
Although dentures and bridges work for many people, it is hard to beat implants as a durable and aesthetically appealing replacement for natural teeth.
If you are receiving a dental implant, your dentist will place a metal post into your jawbone, which will naturally fuse around it over the following months.
Next, the abutment and crown are attached. So there is no slippage with implants, as sometimes is the case with dentures.
Dental Implant Benefits:
Long-lasting results

No slippage as with dentures

Replicates both the appearance and function of natural teeth
Contact your family dentistry Bethesda
Contact Pike District Smiles, your family dentistry Bethesda. Our dental office offers a variety of dental services designed for patients of all ages. Learn more with an exam and consultation. New patients are welcome. Call 301-979-9071 or book online. We'll see you soon.