Dental Anxiety & Sedation
Dental Anxiety & Sedation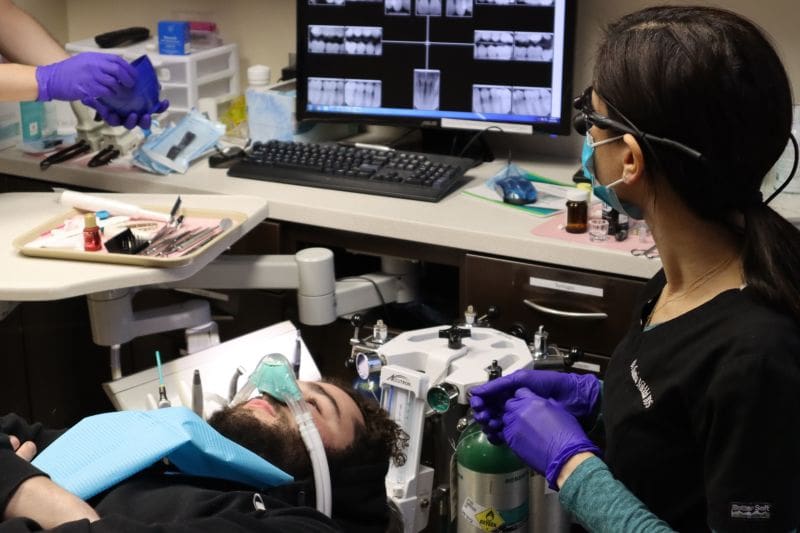 Have you been avoiding the dentist because of anxiety or fear? When you've been neglecting your oral health because of anxiety surrounding dental treatment, Pike District Smiles can help. Dr. Nikkhah offers a variety of sedation options to help you get the care you need without the worry.
It's estimated that dental anxiety or dental phobia affects anywhere from 15 to 60% of people, so you are not alone.
Some patients in North Bethesda may have had a negative dental experience in the past, leading them to fear or avoid the dentist even when they need dental care. Others have developed anxiety regarding dental visits out of fear of pain, embarrassment, or lack of control.
Dr. Nikkhah is a compassionate dentist in Rockville who's dedicated to helping patients who suffer from dental anxiety and dental phobia get the treatment they need and feel comfortable at our practice.
"I've been nervous going to the dentist in the past. Dr. Nikkhah and her staff made me feel at ease with their professional, caring manner. Dr. Nikkhah was patient, detailed and explained everything thoroughly. Best of all, she was gentle."
– NILOUFAR RAHMI
How Do You Know If You Have Dental Anxiety?
Although dental phobia and dental anxiety are different, people often use the terms interchangeably. Dental anxiety tends to be less severe than dental phobia, which is an extreme fear where people avoid the dentist at all costs, or if they do go, they may get physically ill before their appointment.
Everyone's experience will be different when it comes to dental anxiety and dental phobia, but some key signs are:
Just the thought of the dentist or making an appointment makes you feel anxious or sick
If you do make an appointment, you have trouble sleeping or have intense anxiety or nervousness before your appointment
You may sweat, have a racing heart or low blood pressure when at the dental office
You may feel like crying or actually cry when thinking of the dentist
You may panic in the waiting room or when your exam is taking place
What Can Be Done About Dental Anxiety?
Your comfort is always our first priority at Pike District Smiles. We know how intimidating and impossible it can feel to make the first step, but be assured that we're here to listen to your concerns. Come in and speak with us and together we'll develop a plan for how to help you feel comfortable while getting the care you need.
The following are some of the things we've found to be helpful for patients suffering from dental anxiety and phobia.
Inform and Empower
Sometimes, just having the information you need about what's going to happen during an appointment can help ease anxiety. Our team keeps you informed before, during, and after your procedure so you know what's happening and why.

Listening to Music
Some patients find that listening to music during their appointment helps. For most of our procedures, we allow the use of personal headphones and music. This can be a great way to help patients relax while in the dental chair and to pass the time.
Take Breaks
We also allow you to take breaks during your appointment to better manage your anxiety or discomfort. We can agree on a signal beforehand and you can signal to us that you need a break as often as you'd like.

Sedation Options
To help patients who experience the distress associated with dental anxiety, we also offer sedation dentistry. Sedation dentistry includes local anesthesia and nitrous oxide to help you get through your procedure.
Get in Touch with Us
We're happy to discuss your goals for your smile and help you overcome your dental anxiety.