North Bethesda Family Dentist
A North Bethesda family dentist provides a wide range of services. Unlike general dentists or pediatric dentists, family dentists specialize in the treatment of all dental problems for patients of all ages. This means that an entire family can be attended by a single North Bethesda family dentist for several generations. There are many benefits such as time management.
Learn more about choosing a North Bethesda family dentist below. Have more questions? Contact Pike District Smiles today. Our team would be delighted to assist you and your family.
North Bethesda Family Dentist Maintenance of Patient Records
A North Bethesda family dentist will maintain well-documented records from the very beginning. For example, as your baby undergoes the different stages of growth, it is important to have a family dentist closely monitor their teeth to ensure healthy growth. This means that the dentist will be aware of the condition of their teeth and oral hygiene as they transition through all the stages. Likewise, older children, teens, and adults will have their smile monitored for common issues related to their age.
Early Detection and Treatment
In order for any doctor to detect a genetic problem in your family, it is helpful if he or she has attended several members of your family. Having a single family dentist attending to your family members will help the dentist detect if your family has a genetic dental problem. With this technique, the dentist will be in a better position to treat any dental issue.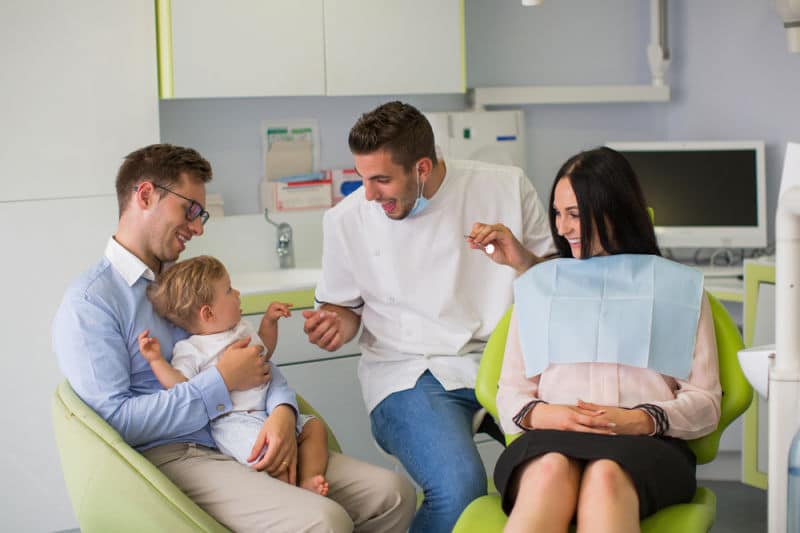 Convenient Dental Services Designed for All Ages
Family dentists offer a wide range of services. You might have been going to the dentist for only a check-up and end up receiving other services like a dental cleaning. A  family dentist is the ideal solution for all your family dental needs all under one roof. Some family dentists also have other services like cosmetic and restorative dental services.
North Bethesda Family Dentist Emergency Services
During the early stages of a child's growth, they are vulnerable to injuries while playing and they need to be attended to with urgency. Knowing that you have a dentist who can attend to your child in case of an emergency, offers peace of mind. For instance, Pike District Smiles provides dental emergency care. Simply contact their office at 301-979-9071 and speak with their helpful staff.
Convenient Appointments for the Entire Family
Having to book appointments for individual members of the family will prove to be cumbersome or even annoying at times. This could even be harder if you have to take all of them individually to the different dentists. Since all family members are of different ages, it is possible to schedule appointments back to back with a family dentist. 
Life-Long Dental Habits
Most of the habits that a person acquires during their childhood and adolescence stay with them throughout their entire lifetime. If you make it a habit of taking your child to a dentist regularly eventually they will learn the benefits of oral hygiene and dental check-up. This is why you need to have a North Bethesda family dentist who can take care of both your dental needs and your child's at the same place since it will also be inspiring for the child to know that you are also being attended to by the same family dentist.
Qualified and Experienced
A family dentist undergoes thorough training. In addition to the training, they undergo an internship where they are allowed to treat patients while under supervision. During the internship, they gain enough experience that enables them to practice on their own.
Contact Pike District Smiles, your North Bethesda Family Dentist, today. We offer a wide range of dental services designed for the entire family. New patients are always welcome. Also, ask about our patient specials! Simply call 301-979-9071 or request an appointment online here. We look forward to meeting you!